Memories of Geetaji
by Deb Peake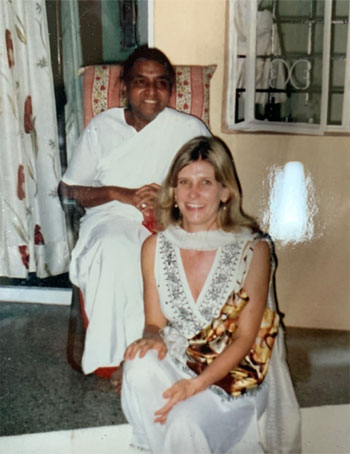 October 2003 was a time that brought about profound change to my life. It was my first trip to study at RIMYI and also the first time I would be visiting my soon to be Indian family.
It was important for me to do this trip solo, to have my own experience. Also planned on this two month journey was a visit with my fiancé's Guru who resides in an ashram in Sohna, India. Would this experience at RIMYI and Sohna feel genuine? I had heard a few tales from people who had studied with the Iyengars, not all positive AND meeting a family Guru – yikes!!
Turns out, there were many similarities between the two places. The Iyengars lived in what appeared to be humble settings. No big fan fare or elaborate ornamentation. Babajis dwelling is similarly humble, traditional and full of wonder.
In 2003, Geetaji was teaching and practicing in the hall most days. Guruji was also practicing every day and would at times engage with the class being taught. I was completely transported by Geetaji's classes. Never had I practiced so deeply, nor been so challenged. She was such a dynamic presence and I was hooked. I would walk back to my room each day floating, eager to write my notes. Yes, there were raised voices and a time when Geeta made a grand statement during a women's backbend class. Speaking to the local women Geeta boomed "you wonder why these westerners are so thin? It is because they eat meat."
It was clear how much Geetaji wanted us to understand, her compassion obvious. When you meet such devoted, committed people as Guruji and Geetaji, it is no wonder they ask much of us.
Diwali came and the students were invited to celebrate at the Institute. We arrived in the evening to find a long trestle table in front of their house full on different sabzi's. We were told that Geeta had cooked many of the dishes. It was an intimate and joyous evening. There were a few of us toward the end of the evening. Geetaji was seated outside her front door. Guruji seated on the bench below. Geetaji was beaming, full of laughter and light. I said to my new friends naively that I might ask for a photo with her. They seemed somewhat incredulous – not sure if this was kosher. I could not resist and I have always cherished this photo.
This article was originally published in the IYAC winter 2019 newsletter.