In memory of Ingelise Nherlan
by Christine Rondeau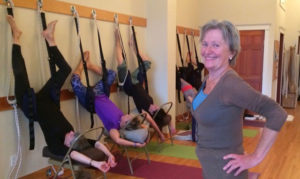 It's with great sadness that we announce the passing of Ingelise Nherlan. Ingelise was a pioneer of Iyengar yoga in Vancouver. She was an incredibly vibrant and dedicated student and teacher. Her passion for the Iyengar method was contagious. She had many dedicated followers in Vancouver and all have very fond memories of her.
I personally never practised with her but her teachings reached me through my teachers. Both Louie Ettling and Eve Johnson would often say while demo'ing a pose, "Ingelise used to", or "I learned this from Ingelise". Just yesterday, in Parvatasana  while sitting in Baddha Konasa we bent the arms above the head before straightening them up. Louie noted "Ingelise used to teach the progression of the arms this way."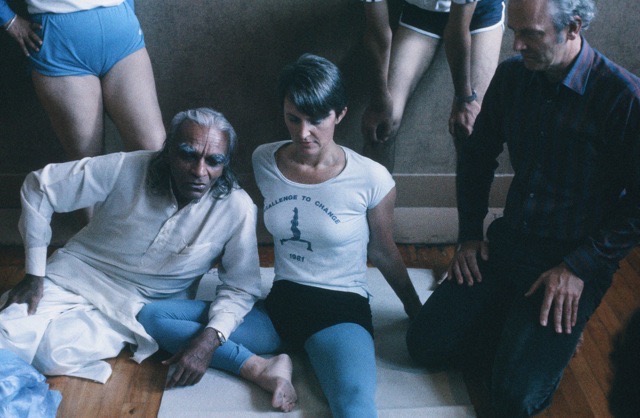 Terri Damiani thinks of her every time she hears "Bone on wood is good!" Ingelise said she learned from Geeta to use the hard edges. "Hard edges speak clearly and they heal. I've become addicted to hard edges as a teaching tool. From that lesson many years ago, I coined the phrase, "Bone on wood is good!"
Patricia Fernandes remembers her referring to having "bubbles of joy" when thinking about her students. She loved Iyengar Yoga and loved spreading the joy she felt about it. Eve Johnson remembers her joy as well and had this to say:
"Ingelise had a quality of joy and freedom in her teaching that I hadn't experienced elsewhere. I'm sure that like all of us she had mellowed over time. When I started studying with her in 2014 or 2015, she was no longer interested in the minutiae of alignment. What she wanted from her students was attention, awareness and the ability to experience the pose directly. We were to feel the joy in the work, and when I was in her classes, that's what I felt."
Ingelise also trained many of the local Vancouver teachers. She revered B.K.S. Iyengar and would often share memories of time with him and his teachings. Here is an interview with Ingelise from 2018 where she remembers Guruji. May she rest now and always.