In his words
by Terri Damiani

For the recent AGM of the local Vancouver association I created a timed practice with little snippets of BKS Iyengar speaking in Los Angeles back in the seventies inserted sporadically. He referenced the RIYMI institute in Pune that had recently opened, as "it's a baby." Straight from the source, leaving the practitioner open to interpretation from the voice of the now legend.

In digitizing some of the archives a small cassette was found, unfortunately the quality was not good, but there were a few parts that could be captured. In listening to the words from the past, with knowing the present–how well the institute has survived, how far yoga has spread, how devoted his life to the practice. A simple man, an incredible student, a guru.

The recording is circa 1976, in LA. The timed practice begins at .00 the talk that I have translated to be the best of my ability, at 8:35. The timed-practice has been split into portions for several reasons, one a low battery! This is not the full 45-minute practice from the AGM.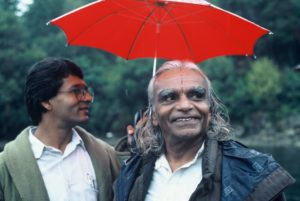 "Are you all learning yoga to refine your body, to refine your nerves, to refine your intelligence to refine yourself? Huh, so how can we be truthful to the subject in case you have that motive. Why don't you learn yourself what you know well, so the same principle stands here.

And those who are teaching I have not let them, I have not, patted them on the back that they have taught well. I have fired (?) them all these days, not one day have I let them free, I have shown them that how they have to see. So teaching is also learning, teaching is not teaching, teaching is learning.

The teacher should have tremendous inner compassion not outside compassion. He should roar like a lion outside, but inside he should be like a lamb, it is an art I'm telling. I roar, why? To bring your brain under my control; if I am very softy you will be very proud, you will become more proud than what you are now. But I am trying, that there are my students that are learning from me".
Listen to the timed practice: