The YoGarth Experience
by Tanya Marusech

Three days spent learning, experiencing and rejuvenating with Senior Iyengar teacher, Garth McLean.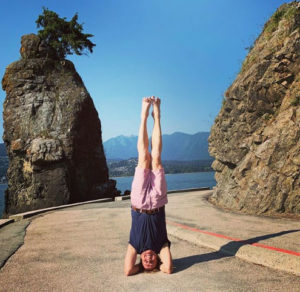 I had the opportunity to attend Grant McClean's workshop a few weekends ago, probably one of the most fun workshops I have attended. My greatest appreciation of Garth, is not only his knowledge, but his easy manner. The calmness that radiated from him, while leading a packed room of multi levelled students, brought a calmness within. His instructions were clear and he made a point of including everyone within the room.
The workshop was not therapy focused but held a nice tempo for all the participants. It showed that a slower, more focused asana can get into all the nooks and crannies, the focus stimulated the mind on a deeper level and gave a sense of fulfillment, of a weekend well spent.
What really stood out for me in this workshop is that it's okay to have fun with your practice — not only in the play with the pose to find the sweet spot sort of play — but the laughter and the humour; the play from within. It gave a whole new take on "knowing the rules and then knowing how to break them". I realize my goofiness isn't for everyone, but my role is not to be liked by everyone, my role is to be me.
Something unrelated to yoga but speaks to his personality in general, was his knowledge of our area. His interest of not only sharing his knowledge but learning about us as well.
I am grateful to the workshop committee for bringing Garth to Vancouver and all the hard work they did to make it happen.