Iyengar: The Man, Yoga, & the Student's Journey
by Christine Rondeau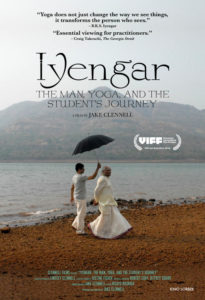 I had the chance to see Jake Clennell's new documentary about BKS Iyengar during the Vancouver Film Festival and I'm thrilled to hear that it's scheduled to be screened once again on May 28. The production team is working to screen the film at more than 20 theatres across the country as a one-night event. The Vancouver screening will take place (fingers crossed) at 7pm at Cineplex Odeon International Village Cinemas.
For each screening to go ahead, 50 tickets need to be purchased before May 16th. This film is a beautiful opportunity to pay tribute to the Iyengar family, share their work, and acknowledge their incredible impact with a wide audience. It's the perfect opportunity for teachers to inspire their students and introduce them to BKS's teachings.
I hope that you will join me in supporting this screening and purchase your ticket today and spread the word about this film! See you at the movies.