Thinking of Yoga Teacher Training? What Questions should you ask?
by Christine Rondeau

I've been known to make snap decisions in minutes and always just listen to my gut while others spend a great deal of time before making more considered decisions. As an example, my husband and I decided to get married one Friday afternoon and we were married the following Friday. Meanwhile,  someone I used to know had a spreadsheet going for several months that laid out the pros and cons of various potential husbands.

These might be extreme examples, but provide an illustration of how different we all are. The variety is amazing and mind boggling. I was thinking about such differences again recently, when a friend asked why I was doing the teacher training program. I can't remember exactly why I signed up but I probably just listened to my gut and went for it.

This prompted interesting conversations though, and prompted me to reach out to my teachers at the Yoga Space and ask them what questions one should ask before committing to this three year program.

Louie Ettling and Patricia Fernandes are currently leading the yoga teacher training program in the greater Vancouver area. Here's what they had to say:

Why do you want to be an Iyengar yoga teacher?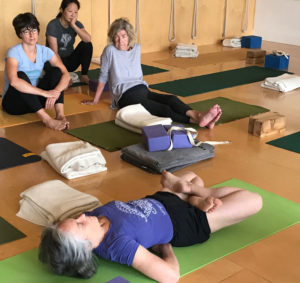 As  mentors in The Yoga Space Iyengar yoga introductory teacher apprenticeship program, this would be our first question when approached about joining the program. If the student answers, 'I really want to deepen my yoga practice and studies', we would likely recommend that they simply continue to be a student. With sincere practice and dedication we cannot but deepen our understanding of and connection with yoga. One does not need to learn how to teach in order to deepen one's practice. Some of the reasons we have heard as to why people wanted to become teachers have been
out of gratitude for what yoga has given me
to share the learning that has meant so much to me
to make yoga/Iyengar yoga accessible to as many people as possible
"Commitment" is a good word to have in your question. Becoming an Iyengar yoga teacher requires a strong commitment to yoga, to one's practice and to this particular tradition. This kind of commitment is more readily maintained when one is passionate about yoga and the tradition of B.K.S Iyengar to start with. It is a program which  follows adult education principles; trainers and peers support the trainees, while also expecting the trainees to take on responsibility for their own studies and growth. Trainees need to be willing to accept that our program does not function in isolation, but follows international guidelines that were created by our original teacher B.K.S Iyengar and that are regularly and carefully adapted by the Iyengar family to work within the varied world communities where Iyengar yoga is practiced.
Sometimes people contact us and tell us that they are interested in becoming Iyengar yoga teachers. We obviously are keen to know what yoga experience these people might have had. To enter an Iyengar yoga teacher apprenticeship program one needs to have studied with a certified Iyengar yoga teacher for at least three years. This directive was given to all Iyengar yoga mentors of teachers worldwide by BKS Iyengar from Pune, India.
Commitment of time
This program requires a strong commitment of your time.  Time for personal practice, attending two classes per week, participation in monthly apprenticeship sessions, learning how to teach, practising teaching small groups, researching and answering written assignments. This commitment is for a minimum of three years and up to five.
Commitment to home practice
You will be expected to become a more independent practitioner and to develop a home practice. Your home practice will be supported by your mentors and peers in the program. Your personal practice will also be fed by your attending two classes per week.
Commitment to yoga based on the work of BKS Iyengar
In addition to learning about yoga through your personal practice, you will be expected to
read and write about the philosophy that our system of yoga is based on
learn about basic anatomy
work with your mentors to develop the art of giving clear instructions to keep students safe as they learn to practice yoga
observe your mentors as they teach students
begin to teach in the regular classes of your mentors
develop a small class of your own, so that you are able to teach small groups  in your third year of training
work with other apprentices and mentors. Working with colleagues forms a foundation for ongoing support and collaboration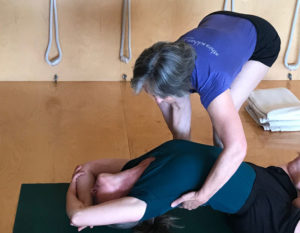 "The teacher should be clear, clever, confident, challenging, cautious, constructive, courageous, comprehending, creative, completely devoted and dedicated to knowing the subject, considerate, conscientious, critical, committed, cheerful, chaste and calm".  These playful and mindful words were used by B.K.S Iyengar. None of us claim to have this host of excellent qualities. However, the willingness to develop such qualities within oneself and to grow as a human being would be helpful expectations to have of oneself before entering this kind of learning.
There are probably a dozen or so other questions one could ask and I should sit down with my friend again and see where she's at and if she's reached her decision. Whether you make snap decisions or dissect every possibility, these questions are good ones to start with.