Workshop with Krisna Zawaduk
Sept 17 - 18, 2022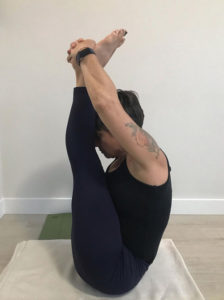 The B.K.S.  Iyengar Yoga Association (Vancouver) is pleased to welcome senior teacher, Krisna Zawaduk to the Russian hall in East Vancouver on September 17 – 18. During this 2 day workshop Krisna will explore some of the more unusual poses found at the back of the "Light on Yoga" book. These poses may seem daunting at first, but through the use of props and a deeper exploration of our bodies, we can get a taste of these.
Full details will be coming soon, but in the meantime, please save the date.
About Krisna Zawaduk
Krisna is a senior certified Iyengar Yoga teacher (CIYT 3), mentor and assessor. Passionate about living a life in Yoga and celebrating the radiance of fellow human beings, she holds space for people to develop intelligence and awareness in and through the body. She has a keen interest in liberation teachings and has made 8 trips to India for study and pilgrimage. She enjoys silence, nature, dharma, Jyotisha and being in good company.