Workshop with Krisna Zawaduk
Sept 17 - 18, 2022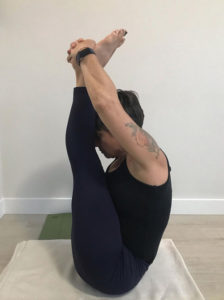 The B.K.S. Iyengar Yoga Association (Vancouver) is pleased to welcome senior teacher, Krisna Zawaduk, to our community September 17 – 18. Krisna will lead us in an exploration of some of the more advanced asanas found at the back of the "Light on Yoga" book. These poses may seem daunting at first, but through the use of props and a deeper awareness of our bodies, we can get a taste of these asanas.
Where:
Russian Hall, 600 Campbell Ave. Vancouver, BC
Who is this for:
This workshop is open to yoga practitioners, teachers and trainees of Iyengar yoga. Two years of yoga practice is recommended. Members of the B.K.S. Iyengar Yoga Association (Vancouver) will have the opportunity to register in advance at a discounted rate. To benefit from this offer, please consider becoming a member.
Cost:
Member: $175
Non-member: $200
About Krisna Zawaduk
Krisna is a Level 3 Certified Iyengar Yoga teacher. She's been practicing Iyengar yoga with devotion and gratitude since 1986 and teaching since 1991. Krisna finds great joy in accompanying others on their journey towards themselves. She provides Mentorship for teachers moving towards national certification and also serves as an Assessor for the Iyengar Yoga Association of Canada. Passionate about living a life in Yoga and celebrating the radiance of fellow human beings, she holds space for people to develop intelligence and awareness in and through the body. She has made 7 trips to India for study and pilgrimage. Krisna enjoys silence, nature, dharma studies, the Yoga Sutras of Patanjali, Sanskrit, devotional practices and being in good company.