Workshop with Ann Kilbertus
March 18 - 20, 2022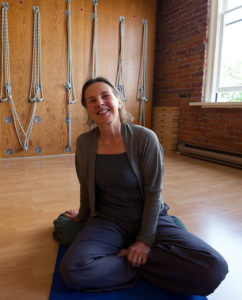 We are super excited to welcome Ann to Vancouver for a full IN-PERSON workshop. YES! You read that right, all of us in the same room, talking, practicing and sharing. As COVID numbers stabilize and vaccination numbers in BC continue to grow steadily, some of you might be ready to come back out and play a bit more freely. Fingers crossed trends will continue and we should be somewhat back to normal in 2022.
We look forward to seeing on March 18 – 20, 2022 at the Ukrainian Hall in East Vancouver.
Dates and Time:
Friday: 5:30 – 7:30 pm (teacher focused segment)
Saturday: 10:00 am – 12:30 pm, lunch break, 2:30-4:30 pm
Sunday: 10:00 am – 1:00 pm
Ann will lead us through a weekend where we may find a sense of direction in the practice of asana and pranayama.
When theoretical knowledge and experienced knowledge meet, harmony, clarity and wisdom set in.
Geeta Iyengar
Registration opens mid February. In the meantime, mark the date in your calendar and stay healthy.
Ann Kilbertus has been a student in the Iyengar Tradition since 1984 when she began her studies in Victoria. She continues to study with Shirley Daventry French regularly and has been teaching classes since 1988. Ann began going to Pune, India in 1992 and returns very regularly to study with B.K.S. Iyengar and his family. Her training and practice as an occupational therapist have offered a valuable contribution to further understanding of this work. Ann has served locally for many years in the training of teachers and nationally on the Iyengar Association of Canada's Professional Development Committee. She shares her understanding of this vast body of work with joy and with seriousness of purpose.