Workshop with Garth McLean
Nov 12 - 14, 2021
Based in L.A. but born on the Canadian prairies, we welcome back Garth McLean to teach a three day workshop Nov 12 – 14th. In-person or online is yet to be determined, but either way save-the-date.
Garth is a senior level Certified Iyengar Yoga Teacher and a Certified Yoga Therapist with the International Association of Yoga Therapists. He is a founding member of the Iyengar Yoga Therapeutics group, a non-profit based in L.A. dedicated to helping people manage diseases and conditions through the therapeutic applications of yoga. He is a direct student of BKS Iyengar who studies and teaches yoga from a unique perspective:
"Blessed with a diagnosis of Multiple Sclerosis in 1996, Garth successfully manages his course of MS and a hectic schedule with a daily practice of Iyengar Yoga as presented by Yoga master Yogacharya BKS Iyengar."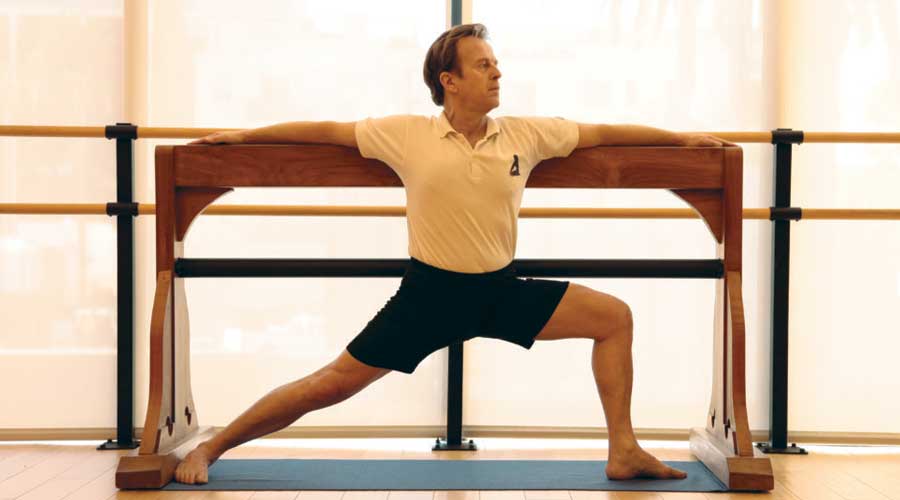 Garth teaches with humour and compassion. His previous workshop in Vancouver 2018 focused on Yoga and the Nervous System and was incredibly insightful on how to practice yoga, both on and off the mat, with poise and awareness.
There's a lot more to know about Garth – he's a busy guy – he's an actor/producer who wrote and still performs a one man play Looking for Lightning based on MS and his Iyengar yoga experience. And he just wrote a book, Yoga and Multiple Sclerosis: a practical guide for people with MS and yoga teachers.
My hope is that by offering this book it may serve as an additional resource for ambulatory people with MS to help ease their situation.