Special online event with Abhijata Iyengar
Dec 11-14, 2020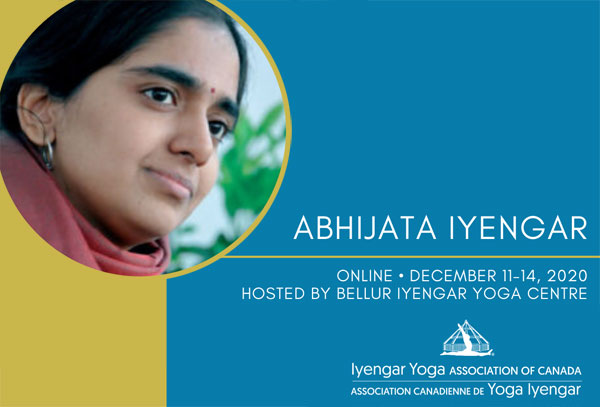 You're invited to a special online event with Abhijata Iyengar to celebrate B.K.S. Iyengar's birth anniversary and to benefit The Bellur Trust.
7:30-9:30am (EST) each day
How to make payment:
The Bellur Iyengar Yoga Centre is asking for a $100 USD ($130 CDN) donation to attend all four classes with Abhijata Iyengar. There are two methods to make this payment:
Direct bank wire transfer via The Bellur Trust website
Via the IYAC/ACYI website (this provides the option to pay funds in CAD)
If you wish to donate more than $130 CDN, please register and submit payment directly on the Bellur Trust website – instructions to make the bank wire transfer are there.
All funds collected from IYAC/ACYI will be sent to the Bellur Trust.
PLEASE NOTE: Payment via IYAC/ACYI does not register you for the event.
To register for the event:
Go to the The Bellur Trust website
Scroll down the page and select the 'Students Based outside India' link
Fill out your info and select 'yes' beside 'donation details' then upload your receipt from IYAC/ACYI or bank transfer payment
We look forward to virtually celebrating Guruji with our global community. Thank you for supporting the important work of The Bellur Trust. Learn about the centre and the work being done here.
Additional details:
The class will be taught in English with no available translation. Basic knowledge of Iyengar Yoga and at least one year of practice is required. Anyone who meets these requirements is welcome to participate in this event.
Private recordings of the event are not allowed. The Bellur Iyengar Yoga Center will provide recordings that will be available for 20 days after the event.
No refunds will be given. The Bellur Iyengar Yoga Centre will send all correspondence, class links, and recordings to participants.